Hey y'all! My name is Beth and I'm a mother of
2
(now three!) boys living in North Alabama. I'm a full time youth minister in the United Methodist Church. I love my God, my family, my friends, my youth, Walt Disney World, and Auburn University, to name a few!
I've been blogging for almost a year. Before that, I followed several "Disney Blogs" religiously but never thought to start one of my own. I even had a twitter account just to follow some of the moms and dads on the Mom's Panel. It wasn't until last March when I heard about the first
Disney's Social Media Mom's Celebration
that I started a blog of my own. When I read about this event on other blogs and on twitter, I knew I wanted to attend one day and the only way to "get in" would be to be an active Social Media Mom! I had to get on the bandwagon. I started "A Disney Moms Thoughts" on March 20, 2010 and @adisneymom on twitter in August 2010. I originally started both for selfish reasons- I wanted to attend the Social Media Mom's Celebration. But, after almost a year, that's not why I do it anymore. Sure, I would love to attend at some point, but if I don't get to, that's OK. I've "met" some really awesome people and have learned more than I thought I could by reading other blogs. In December, during my most recent trip to WDW, I even used some tips and tricks I picked up from fellow bloggers!
I knew I could maintain a blog solely on Disney, specifically Walt Disney World, because
I love it that much! I've been to Walt Disney World 15 times and Disneyland once. Right now I'm in the planning phases of trip # 16 in the fall with my 2 year old and my mom! You can read more about
my previous trips here
. People often ask me why I keep returning to Walt Disney World. I don't have a specific answer, just a few thoughts.
1. The magic that is present at WDW. If you are reading this, you probably "get it"! I'm able to leave everything behind when I head to Walt Disney World. Unlike other vacations, I'm not reminded day in and day out of what I've left behind in Decatur, Alabama. Disney does a phenomenal job of transforming you into a world of magic where everything is great. It's no wonder
children with life threatening illnesses
go to Walt Disney World everyday. It's magical.
2. It's never over. There are always plans for the future with Disney- a new park, a new land, a new ride, a new restaurant, a new resort, a new movie, new characters, a new theme, a new parade... I could go on and on. No matter how many times you go or how often you go, there is always something new to see, eat, do or experience. There is also so much to do at Walt Disney World, I don't think you could ever do it all!
3. You can get a glimpse of the vision Walt had. If all companies, businesses, entrepreneurs, churches, schools, etc. had the dream, vision, drive, and imagination Walt had, this would be a different world. We all can learn so much from a man named Walt Disney.
4. Families can really be families at Walt Disney World. There is something for everyone- all ages, all sizes, all genders. Nobody is left out of the fun. For my family growing up and my family now, when we are at WDW it's all about us. We aren't competing with TV shows, ball practices, video games, cell phones, computers and friends. We are one. We play together, eat together, stay together, shop together, ride together, laugh together and sometimes
cry together
! We all need to learn how to take a bit of this magic home and spend more quality time together!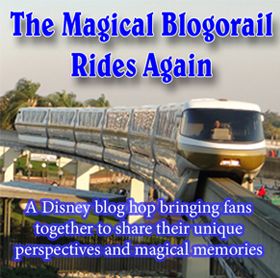 I also included this in the Magical Blogorail Rides Again Blog Hop. Head over to the
to check out everyone else's Disney inspirations!