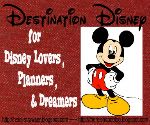 Thanks to Heidi at Reviews & Reflections for hosting the Destination Disney topic this week! I have linked up a few times using old posts with Heidi's blog hop, but I haven't written a post specifically for it until today. How exciting!
Today's topic is your "Favorite Time to Visit." Since I'm primarily a Walt Disney World blog, I will share my thoughts on my favorite times to visit WDW.
Here are my top five times to visit the world:
1. Any time school is in session! This means I stay away from holidays, summer and spring break! The crowds are always high at these times so we do our best to visit when school is in.
2. Early December. This falls right between Thanksgiving and Christmas so all the decorations are up... but school is in session so crowds are down! Score! Don't forget to make plans for Mickey's Very Merry Christmas Party!
3. February- with the exception of President's Day Weekend (remember that school being out brings the masses). February is a great time to visit. The temperatures are nice and rain hasn't been an issue for us in February. There aren't any big events at this time to bring in lots of people. The only down side is many attractions are closed for refurbishment, since the crowds are low.
4. September/ October- with the exception of holiday weekends! :) Are you starting to see a trend here?! The weather is still great. It can be warm during the day, but the evenings are nice. The water parks are great at this time of year. You can also participate in Mickey's Not So Scary Halloween Party!
5. New Year's Eve. I know, this totally contradicts what I said above! The crowds are INSANE for this night, but it's absolutely amazing! I've been at WDW to ring in 2 New Years and both were so much fun. If you go, don't have high expectations for getting a lot done. Plan your meals and enjoy the day. Don't stress if you can't ride everything and take full advantage of Fast Pass. You also have to arrive EARLY to make sure you get in the park of your choice before they reach capacity.
There ya have it. While I LOVE summer and I LOVE holidays, I try to stay away from Walt Disney World at those times!
Thanks for reading and if you have time, visit Heidi's blog and join in on the Destination Disney FUN!