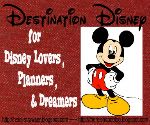 This week our topic for
Heidi's Destination Disney is our kids favorite memories
. Cman is too young to share his memories, but when I tell him friends are going to Disney World to see the castle and Mickey Mouse his eyes light up and he says "Jessie? Woody? Dummo?" So, I think it's safe to say his favorite memory is riding "Dummo" and meeting Jessie and Woody.
I have so many favorite memories of my kids at WDW! I think one of my favorites was when JAG met Snow White for the first time! She signed his book and we got a picture. Then she addressed him as her price and asked if she could kiss him. Without hesitation, he said yes, puckered up his lips and leaned in for the kiss! She laughed and said she would just kiss his cheek. For years we would kid him about Snow White being his girlfriend.
When we ask him about this now, he either a) doesn't remember it or b) is still embarrased, so he pretends to not know what we are talking about! :)
When I asked JAG what his favorite memory was it wasn't Snow White! It was riding the thrill rides- all of them- Tower of Terror, Rock N Roller Coaster, Space Mountain, Splash Mountain, Big Thunder Mountain, & Expedition Everest at WDW and the Matterhorn and California Screamin' at DL!