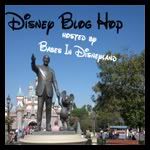 If you haven't checked out the other posts on Winnie the Pooh today, Hop on over and check em out!
In honor of the release of the new Winnie the Pooh movie, I'm sharing my meet and greet experiences with Pooh and Friends. I've met all these characters many times in the parks. I've even eaten with them at the Crystal Palace! But, these are the photos/ experiences that made it into my autograph scrapbook!
This encounter with Tigger was during our trip to celebrate my college graduation in 1996. I honestly can't remember where this photo was taken. I thought it was in Epcot, but the background doesn't look Epcotish. It looks like Animal Kingdom, but it wasn't opened in 1996. Maybe it's in the Magic Kingdom? Kinda looks like Adventureland, but I don't remember Tigger ever being in Adventureland. Oh well. I know it was during the 1996 trip! :) What do you think? Could it have been Adventureland?
I met Piglet and got his autograph at Animal Kingdom on our 2001 trip to ring in 2002. We were at the character meet and greet where the Radio Disney Cruise around the Tree of Life used to be located! I don't remember the name of the place now. We walked down a trail, near Flame Tree BBQ (I think), to a dock on the river. Pooh and friends were waiting for us there.
I met Pooh on the same trip in 2001/2002, but I think Pooh was found at MGM Studios. I believe this was taken on the street that is now where Toy Story Mania is located. Back then, you could meet the characters at their "trailers" like they were on a movie set. Pooh signed my book and was added to my scrapbook!
We met Eeyore at the same place as Piglet in the Animal Kingdom during our New Year's 2002 trip. I got his autograph at the same time- obviously, since you can see my book and pen! :)