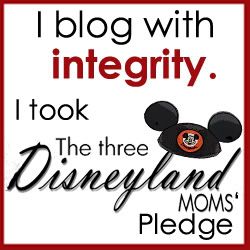 As a Disney blogger I am dedicated to blogging with integrity and vow to:
never post rumors or items I know not to be true.
respect my audience and always be truthful in the ways in which I review and describe Disney experiences and products.
fully disclose sponsored posts and advertisements.
bring the fun and light side of Disney to my readers as a fan.
report timely and truthful insight as a news source.
write to the best of my ability and use the correct terms and phrases when reporting Disney news and information.
never take photographs or text from other blogs or sites without the owner's permission.
be a friend to other Disney bloggers and fans, for we are part of a community, not a competition.
keep my blog current by posting on a weekly basis.
As a Disney fan and blogger, I think this is an incredible idea! I can fully get on board with this pledge. Since I took this pledge on The Three Disneyland Mom's blog, I will post their button on my blog for others to see.
Integrity, according to dictionary.com is defined as adherence to moral and ethical principles; soundness of moral character; honesty.
When I asked my husband to define integrity, he said, "doing what's right, even when no one is watching." I think both of these definitions are perfect. Even when I first started blogging and my mom was the only one reading, I still tried to blog about what was true and what I had personally experienced. I tried to follow other Disney bloggers and support them in hopes that they would return the love! I try to give credit to sources when I can. When I use photos from other people, I give them credit. Most importantly, I am true to myself when I blog. I don't try to be someone I'm not or pretend to like or enjoy something just for the sake of the blog. What you see is what you get with "A Disney Mom's Thoughts!"
Thanks for reading and supporting me! This Disney family that I have learned to love is very important to me!