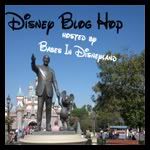 Welcome to today's Blog Hop with Lisa from Babes in Disneyland. It's themed "Shine A Light." I thought about asking one of my Disney Blogger friends to do a guest post and shine a light on them, but decided against it. I do love all my blogging buddies, but I wanted to "Shine A Light" on someone else. Today, the spotlight will shine on my mom, Kay, or as the grandkids call her, KK.
I asked my mom to write a guest post for several reasons. The first is the fact that she, and my dad, introduced me to Walt Disney World in 1983 during our first trip when I was 9. We've made so many wonderful family memories together at the World. It only made sense to shine a light on her. I look forward to sharing more memories in 41 days as she and I take C-man to WDW together! Second, when I first started my blog, my mom was my only fan and reader! She would read and comment. It meant more than she knows for her to do that. I would call her to ask her advice on blog topics, or get her to help me remember details of a memory or get her to proof read entries. She has always supported me and my endeavors and this blog is no exception. The final reason I asked her to guest post is because she has had the experience of seeing Yehaa Bob in person and I haven't! I think he is such a great hidden gem at Walt Disney World and others need to know about him! So for this post, you are now reading:
"A Disney KK's Thoughts!"
KK is in the green!
In June, my husband and I spent one night in Walt Disney World as we made our way to Fort Lauderdale for a wedding. This was our first trip to the most magical place on Earth without any accompanying children, so it was a new experience for us. We were able to do some things that we could not afford to take the entire family, like the Luau at the Polynesian and a round of golf. But the highlight of the trip was visiting Bob Jackson, better known as YeHaa Bob, at Port Orleans Riverside Resort.
We arrived via boat from Downtown Disney, which was another first. This was a leisurely trip that allowed us to see the treehouse villas as well as the beautiful landscape that surrounds Walt Disney World. The stop for YeHaa Bob was the second dock, which someone on the boat told us, or we wouldn't have known. The first dock is for the French Quarter, I believe, and the second for Riverside.
He performs in the River Roost Lounge at Port Orleans Riverside, Wednesday through Saturday nights beginning at 8:30 and ending around midnight with two different shows. Don't let the fact that this is a bar keep you from taking your children. The show we went to was very family/child friendly with audience participation and sing alongs.
We arrived for the first show a little after 8:00. The place fills up quickly, so plan to arrive early. Bob was already in the audience meeting people and getting to know everyone. We ordered drinks and something to eat and sat back ready for the show to begin not knowing exactly what to expect.
Papa singing Y.M.C.A.
We were not disappointed! YeHaa Bob plays an upright piano that rocks as he plays and sings. His songs range from folk songs, to children's songs, to "oldies". They are all familiar ones so that everyone can sing along. He asked the children to come up to sit close to him and he sang songs that they knew and could participate in, like "Head, Shoulders, Knees and Toes". When new people arrived, he would welcome them and ask them where they were from, followed by a big welcome from the entire audience! There were congo lines, the men sang "Y.M.C.A." and the women danced the can-can! Whenever YeHaa Bob blew his horn, we all stood up and did the Tarzan yell, complete with beating our chest. The show lasted for an hour and a half with no breaks. We laughed until we cried. It was a great way to end the evening.
I feel certain YeHaa Bob will be on our list for every visit we make to Walt Disney World. Did I mention it was free? But if you take up a seat, you might want to buy something to eat and drink! For more information about YeHaa Bob, check out these websites:
http://yehaabob.com/
http://wdwcentral.wordpress.com/2008/12/11/bob-jackson-entertains-at-disneys-port-orleans-riverside-resort/
I hope you have as much fun as we did!
Have a Magical Day!
Kay, or KK