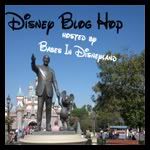 Today's Blog Hop theme with Lisa from
Babes in Disneyland
is Halloween Costumes. This was a no brainer for me!! I was very fortunate to attend Mickey's Not So Scary Halloween Party lat month at the Magic Kingdom at Walt Disney World. So far, this has been one of my favorite events at WDW!
My mom, son and I were going together, so we had to think of something for all of us to wear. We knew we wanted to go "Disney" and wanted to be a trio. We brainstormed some ideas together and prior to our vacation,
I polled my blog family to help us choose
! There were 4 options we decided would be doable for the three of us:
1) Cruella, Lucky and Horace from 101 Dalmatians
2) Snow White, The Evil Queen and Dopey from Snow White and the Seven Dwarfs
3) Mary, Bert and Michael from Mary Poppins
4) Carl, Russell and Dug from UP!
Even though, the gang from Snow White and the Seven Dwarfs actually "won", we decide it would be a lot easier for us to go with the guys from UP! I was Russell, mom was Carl and C-man was supposed to be Dug! He was scared of the dog costume I found for him. Luckily, I tried to get him to wear it several weeks before the party, so I knew to have an alternate plan for the night of the party!
Here are a few shots of us from MNSSHP on September 23 as Carl, Russell and "Dug."
Russell, Dug and Carl
Dug... showing me
how to be a dog!
Russell and Dug
with the Alien!
Pre party in the room-
before the sweat set in!