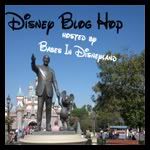 Thanks to Lisa from
Babes in Disneyland
and Deb at
Focused on the Magic
for hosting the hop today!
Today's theme is Food
. Since I've been blogging about Disneyland (in honor of my friend
Chad's guest post
yesterday) all week, I figured I'd continue by posting about FOOD at DL!
Carnation Cafe Breakfast at Disneyland
We were only at Disneyland for 2 days so we didn't have many of chances to try a lot of foods. Our meals were at Carnation Cafe on Main Street, Village Haus in Fantasyland, French Market Restaurant in New Orleans Square (I think), House of Blues in Downtown Disney, and Baker's Field Bakery at DCA. I also had my first, and only, churro at DCA and a gorgeous caramel Mickey apple!
All of our meals were very good. Carnation Cafe was my favorite mainly because of the atmosphere! I loved eating on Main Street first thing in the morning and seeing all the guests enter the park. I wish WDW had something equivalent. This was probably the best Mickey waffle I've ever had. I had a burger and fries at Village Haus, which was a typical park burger. It was fine for me, being a burger girl! :) I also had a burger at House of Blues which was very good. We all had muffins, if I remember correctly, at Baker's Field Bakery. I also liked this location since it was right inside the gate of DCA. We sat outside under the umbrellas and watched the people enter the park. The only bad experience we had with food on this trip was at the French Market Restaurant- I think that was where we ate! This counter service restaurant was about to close when we walked in. The hostess told us we had plenty of time to eat, so JAG and I got in line while Jonathan went to the restroom. We went on and ordered while he was gone. When he walked in, before we had our food, they told him he couldn't order. Then they started cleaning up around us while we were eating and rushing us out of the restaurant. I honestly don't even remember what we ordered or what our options were. I just remember not feeling much Disney love as this restaurant was closing!
I mentioned on Tuesday that I wish I had
done more research
on Disneyland before we went- restaurants and food would have been high on my list to research! I wish we had eaten beignets at New Orleans Square and had made reservations at Blue Bayou- which is a totally different post as this restaurant overlooks Pirate's of the Caribbean!
What food suggestions do you have for the Disneyland Resort in California?