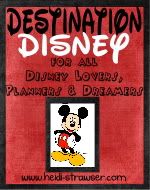 We're down to the letter "W" with Heidi's Head. Crazy how fast this alphabet Disney Destination has gone! It's been a lot of fun and I'm anxious to see what is ahead for my Friday hopping with Heidi! :)
Now, on to the "W" pictures from Walt Disney World...
Water Art
Window Clings
Water Splash (That's me in the poncho!)
Wendy
Woody
"W" Scavenger Hunt: Wristband and Wildlife Guide
Walt Disney's Star
Water Parade
Warthog
Walt Disney World
Wooden Toy Soldiers
Winnie the Pooh
White Rabbit
Watching "Wishes"