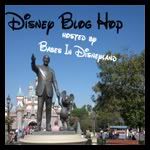 Today's theme for the Babes in Disneyland Blog Hop is "Disney Bucket List". I've started a bucket list in the past, but each time I read another blog about an experience, my list grows! I don't think I'll ever be able to do everything I want to do... eat in all the restaurants, stay in all the resorts, visit all the Disney parks, go on a Disney cruise, etc, etc, etc. But for this list, I'm focusing on our trip next month! There are several new things I want to do, see, taste and try- so here is my 2012 WDW Trip Bucket List:
1. Try at least one cupcake from each park! Yes, I have a list ready...
2. Go up in Characters in Flight
3. Eat beignets at Port Orleans (where we'll be staying for the first time!)
4. See YeHaa Bob at Port Orleans
5. Take the boat ride from Port Orleans to Downtown Disney via The Sassagoula River.
6. Do the Behind the Seeds tour at Living with the Land
7. Do or is it play (?) the Kim Possible Adventure at Epcot
8. Do/ play Sorcerers of the Magic Kingdom
9. See Wishes from either the California Grill or Poly Beach
10. See the "Magic, Memories and You" show on Cinderella's Castle
And most importantly... Take it slow!! Relax and enjoy my time with my husband! :)