Disneyland version
If you've ever been to Walt Disney World or Disneyland, I hope you took time to ride "Pirates of the Caribbean." This is a classic Disney attraction that is not only found at the Anaheim and Florida parks but also in Tokyo and Paris. I think this attraction is so special to me because it was one of the last attractions where Walt participated in the design. The Disneyland version opened 3 months after Walt's death. It was originally going to be a walk through wax museum type attraction but was changed to the dark, log flume type ride.
If you have been to both Disneyland and Walt Disney World and experienced both attractions, maybe you'll agree with me that Disneyland's is much better! I love the loading area at DL. The theming is great and it's so much fun seeing the boats pull off with the passengers. My favorite part is floating by the Blue Bayou Restaurant. It reminds me of the Gran Feista Tour in the Mexico pavilion at Epcot when you float by the Mexican restaurant... but Pirates at DL is much, much better! The ride at Disneyland is longer and includes more drops and dips.
I wish The Magic Kingdom at WDW could make a few changes to make their attraction more like Disneyland's... but I don't think that will happen!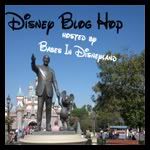 Thanks to Lisa for hosting this week's blog hop!