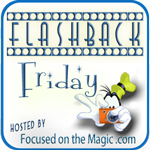 Thanks for the Flashback Friday Hop Deb!!
This Flashback is from 2006. JAG had his face painted earlier in the day as Darth Maul (I think that's his name...). We had reservations for dinner that night at the Sci-Fi Dine-In Theater at MGM Studios. This restaurant is so unique! You sit in 1950s convertible car tables, like you're at a Drive In movie and watch old sci if movie clips and cartoons on the big screen in front of you. The menu is American Cuisine: burgers, ribs, salads, steaks, seafood, sandwiches and my favorite MILKSHAKES! :) All of the desserts are delicious and taste "just like mom used to make!"
This is a great location for your family, if your kids aren't scared of the monsters in the sci fi clips. Our son was 5 1/2 when he went the first time and had no problems with the movie clips scaring him. This restaurant is also perfect for date night! The atmosphere is awesome. It's dark, as if you were actually at an outdoor drive in, and the lights overhead make it seem like stars are twinkling.
In fact, I may suggest hubby and I visit the Sci Fi Dine In on our next trip- just for a late night dessert, alone, together, in a convertible car! ;)