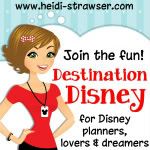 Better late than never.... Here's my Top 5 Snacks at WDW with
Destination Disney at Heidi's Head
.
1.
Cupcake(s)
.
I LOVE cupcakes.
Particularly chocolate cupcakes with white or white butter cream icing. You can't beat the combination... I've tried. I've had several different cupcakes at WDW and have a real hard time narrowing down which chocolate cupcake with white icing is my favorite. For now, I'll go with the Cotton Top Tamarin Cupcake at Animal Kingdom!
2.
Mickey Shaped Pretzel
. While the "regular" soft pretzels are very yummy, there is just something about a soft pretzel shaped like Mickey! On our last trip, I think we had 4 of these things in Frontierland. Yeah, I love em.
3.
Mickey Shaped Chocolate Covered Caramel Apple
. I have to get one of these on each trip. Usually I get it on our last day and bring it home with me. They are soooo big it's hard for me to finish it in one sitting. It's also a lot easier to eat if you have a knife to cut it into sections. Plus, bringing it home means the Disney magic lasts a little bit longer!
4
Main Street Popcorn
. There is something special about the popcorn on Main Street USA. It tastes, hands down, better than any other popcorn. It's even better if it comes in a plastic, take me home with you, container paired with an ice cold Diet Coke!
5.
Mickey Cookies and Cram Ice Cream Sandwich
. Delish! On a hot day at Walt Disney World this hits the spot for me. While others choose the Dole Whip, I'll pass on that and grab some chocolate Mickey shaped ice cream!
This post is joining in the Magical Blogorail Rides again hop on April 29, 2013! Check out other Favorite Snacks at WDW at the hop!