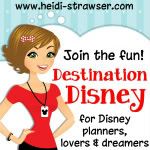 I'm so behind. Not only here, but everywhere it seems!! I'm trying to get everything caught up, but just can't fit it in. However, I have been spending some great, quality time with my boys in this beautiful spring weather! Today we went to the park, had a picnic and played outside. Now,
we
Cman is resting! Maybe I can get caught up on some blogging. I really do miss all of my Disney friends!!
Main Street USA
1. Main Street USA.
I LOVE Main Street USA. I could literally spend hours in this part of the Magic Kingdom. I love everything about it. To read more about why I love it, check out my
Magical Blogorail Hidden Treasures
post!!
Toontown
2. Toontown Disneyland.
While I was not a huge fan of the WDW version of this land, I LOVED the Disneyland version! It is so fun and festive. I actually feel like I could be walking down the streets of the neighborhood where all my Disney pals live! I have several pictures
in this post.
Paradise Pier
3. Paradise Pier (California Adventure).
Another area of the Disneyland Resort that I loved!! Paradise Pier. Two of my favorite attractions are located in this land: California Screamin' and Toy Story Mania. The ambiance of this land makes me feel like I'm really walking down an old boardwalk.
Fantasyland
4. Fantasyland (after renovation).
I can't tell you how excited I am about the new Fantasyland! While I love how I feel like a child again when I'm in the current Fantasyland, the new expansion will help me feel MORE like a child!! The new attractions are going to be so exciting and I can't wait for the Beast's castle.
Italy, World Showcase
5. World Showcase.
Is it cheating to call ALL of World Showcase a "land?!" Maybe, but I do love the entire Showcase. On our last trip, without the kids, we spent so much more time in this area and I fell more in love with it!
Dinoland USA
6. Dinoland USA.
While I'm not a huge fan of the attractions at Dinoland USA in Animal Kingdom and I really don't like the "Chester and Hester" area of Dinoland, I do LOVE the theming of this area! Learning about the backstory of this land and what the Imagineers were thinking, makes me appreciate it that much more!
Africa
7. Africa (Animal Kingdom).
Kilimanjaro Safari is one of my top attractions and the theming of this area also blows my mind! While I have not been to the "real" Africa before, I feel like I could be on that continent when I'm walking around this section of Africa at AK.
Liberty Square
8. Liberty Square.
I've learned to love this area of the Magic Kingdom as I've
grown up
matured. Knowing how much history is located in this small area is phenomenal! The planning that went into making Liberty Square what it is today makes me appreciate the minds of the Imagineers that much more!
While I love almost EVERYTHING about Walt Disney World, it's the attention to detail that blows my mind! I wish I could learn all there is to learn about WDW... which is why I continue to go back over and over again!