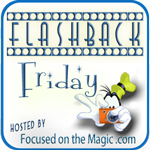 I'll warn you... This is not a pleasant story, but it's pretty funny! While we were at Walt Disney World in February we were passing through "the hub" during the "Move It! Shake It! Celebrate It! Street Party." Everybody was moving in all different directions not really paying attention to anyone else, just trying to get to the next float to meet characters. That's when I noticed several cast members skipping around singing "Hi Ho, Hi Ho, It's Off To Work We Go!" I asked Jonathan what he thought they were doing and all he said was, "Look on the ground." Yup, there was vomit right in the middle of the hub! While two janitor type cast members were sprinkling the magic absorbent stuff on the vomit, the Main Street Cast Members were skipping around in a circle around the janitors singing the song! I don't even think anyone else slowed down to even see what was happening! Not only did I slow down, I grabbed my camera and snapped this photo. I thought it was the funniest thing I had ever seen at WDW involving cast members! I'm sure they didn't think it was too funny though...
I also learned on this trip that cast members don't refer to vomit as a "protein spill" anymore. I didn't learn what the new word was... but don't think I didn't try!!
Do you know the new "code word" for vomit at Walt Disney World?