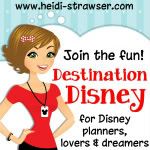 I'm waaaayyyy late in linking up with this awesome meme! The end of school, Memorial Day, being a mom, being pregnant and everything else has gotten in the way of my Disney blogging! This theme is
"Two Favorite Disney Memories."
Really? TWO!?!? That's so hard! So, I'm going to cheat (sorry Heidi!)
I have two categories of "favorites." 1) Favorite memories with friends. 2) Favorite memories with my family.
So my first "friend memory" is the day I discovered "squished pennies!" You can read the whole story of that night
here
, but I'll give you a quick recap too! My friend Heath went to WDW with my family in 2001. We made fun of the $10 penny albums in the gift shops and wonder who in the world would spend money on that! Then one afternoon, Heath felt bad and went back to the hotel for a nap leaving me at Epcot alone. He felt bad for leaving me by myself, so when he came back to Epcot for dinner he brought me a penny album as an "I'm sorry" gag gift. Little did we know that gag gift would turn into a decade long obsession! That night and the next day, all we did was run, literally, from attraction to attraction looking for the penny machines!
My second favorite "friend memory" was with Deb on Test Track in 2003. We had been on this attraction several times during our trip and could not for the life of us figure out where the on ride photo was taken! We eventually gave up on our last day in the parks before we ran the marathon. The day before the race we took the day off from park hopping. We stayed at the hotel to rest and attended the pre race dinner at Epcot in the building where the Food and Wine Festival exhibits are held. After the dinner, we were supposed to follow the guide back to our bus exiting through a back gate- the same one we entered. But we were rebels and HAD to find out where that stinkin' picture was taken on Test Track... so we snuck off and rode Test Track a few more times. We were successful and found where the photo was taken! We took a few
crazy pictures
(one acting like the cheerleaders who infiltrated the park that week and one with the bananas we got at the dinner!)
My first "family memory" was with my mom and C-man at
MNSSHP in 2011
. We dressed up as Carl, Russell and Dug from "UP!" and had the BEST time! I just wish the rest of the family could have joined us! I loved everything about this party: being with my family, seeing the great costumes, trick or treating, riding attractions, meeting characters and dancing at the dance parties. Everything was perfect and I look forward to the next MNSSHP experience we have!
My second "family memory" is when my husband, Jonathan, and I went to WDW for the
half marathon in 2008.
Prior to the race we spent several days touring the parks. The day before the race we spent the morning at Magic Kingdom. It was extra magic hours and we arrived for rope drop. Once inside the park, all we did was walk around looking for hidden treasures I had found online! It was an awesome morning together! We also saw a family 6 doombuggies ahead of us at the Haunted Mansion win a night in Cinderella's Castle. Crazy how close we were!!
Heidi, thanks for the awesome meme and for keeping it open long enough for slackers like me! :)