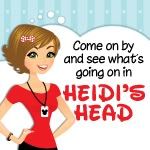 Today I get to welcome my friend and fellow Magical Blogorail buddy, Heidi! Heidi is the owner/ author of Heidi's Head. She inspires me each time I visit her blog with her passion for faith, family and Disney! Today she is sharing her love of Disney's Port Orleans Riverside Resort. I've visited this resort before, but have never had the chance to stay there. Thanks Heidi for this awesome review! :)
I'm so excited to be able to join Beth here at a Disney Mom's Thoughts and share some of MY thoughts on Port Orleans Riverside. It is definitely one of my family's favorite Disney resorts, and has become our home away from home since it's one of the only resorts on Disney property that will accommodate a family of 5.
Our first experience with Port Orleans Riverside was in May of 2011. We had plans to spend a week in the Orlando area on business, so we decided to go down a few days early and stay on Disney property (for the first time ever). After talking with a Disney travel agent, we decided that Port Orleans Riverside would be our best option. We enjoyed those few days so much that we made plans to go back again in January of 2012. And, we stayed there for the third time in December of 2013.
Originally known in the Disney resort community as Dixie Landings, this resort was renamed Disney's Port Orleans Riverside in 2001 when it merged with its "sister resort" – Port Orleans French Quarter. Riverside is the larger of the two resorts and sits along the banks of the Sassagoula River, just north of Downtown Disney.

Port Orleans Riverside boasts 2,048 guest rooms, which are divided into two distinct sections. Magnolia Bend is made up of 3-story plantation-style mansions (think "Gone with the Wind"), while the 2-story buildings in Alligator Bayou are more rough in nature (giving a lodge-type feel).



Southern, Cajun-style menu hasn't appealed to my picky eaters), but we love the food court. It's open for breakfast, lunch, and dinner and features various stations – the grill, pizza and pasta, the specialty station (my favorite because of the create-your-own salad), the carving station (open only for dinner), and the bakery. We've enjoyed all the food that we've tried here.
Ol' Man Island, a "swimmin' hole" complete with water slide, a water fall, and a geyser! This pool also boasts a hot tub and kids' wading area. In addition, Port Orleans Riverside also has 5 quiet pools.

If swimming isn't your thing, there are plenty of other recreational activities available. For-a-fee activities include:

· Bayou Pirate Adventure – a 2-hour cruise for kids available on Tuesdays, Thursdays, and Saturdays. Cost is $34+tax for children 4-12 years old.

· Horse-Drawn Carriage Rides – a 25-minute ride through both Port Orleans resorts. Cost is $34. Carriages can accommodate up to 4 adults, or 3 adults and 2 small children.

· Bicycle and Surrey Rentals – cost depends on the time (prices range from $9-24). Bikes can be rented by the hour and the day, while surreys can be rented in 30-minute increments.

· Cane Pole Fishing – the Fishin' Hole is open daily from 7:00am – 1:45pm. A family (up to 6) can fish for $13.32 per ½ hour.

· Guided Bass Fishing Excursion – at $270 for a 2-hour or $455 for a 4-hour, these excursions take place along the Sassagoula River, departing from Downtown Disney.

In addition, hairwraps, braiding, and caricature drawings are available for purchase in the marina area of the resort.

Free recreational activities include:

· Movies under the stars – shown nightly, dependent upon weather.

· Campfire on de' Bayou – the campfire itself is free, but S'mores kits are available at an additional charge.

· Children's Playground

· Live Entertainment – "Ye Haa" Bob Jackson performs in the River Roost Lounge Wednesday – Saturday evenings. Get there early for a good seat – he's pretty popular and seats fill up fast!

· Jogging Trails – 2 routes are available – a one-mile route throughout the resort, and a longer 1.7 mile route that also include French Quarter.

We have really enjoyed our experiences at this resort and will definitely stay again in the future. I also recommend this resort to friends. We haven't experienced any issues with noise in the room. And, whether or not we drive or fly (and utilize Disney transportation), we've been happy with both parking and the bus stops at this resort. Buses come and go fairly frequently, so we haven't had long wait times.

Probably my only complaint with this resort (which is true of most Disney resorts) is the sheer size of it. Unless you upgrade to a preferred room, the walk from your room to the lobby/food court can be quite long. And sometimes it takes a few days to get your bearings (as the paths tend to be very maze-like in nature).

Thanks again to Beth for letting me share! If you have any questions about Port Orleans Riverside, you're welcome to contact me via e-mail. I also hope you'll stop by and visit me over at Heidi's Head.